A while back I published a list of popular fan–favorite themed Peloton rides. You can download that list and this one, Peloton Soundtrack Rides, in the free Resouce Library at the end of this post.
Sometimes, you're in the mood for a Peloton ride featuring soundtracks from TV, movies, and Broadway musicals, here are some to choose from:
This list gets updated whenever a new class gets added, so be sure to subscribe.
Remember you can print out this free downloadable list in the free Resource Library.
Tip: Did you know that if you have the Peloton bike, you can add songs to your own Peloton Playlist on Spotify? In settings, connect your Spotify account. Then, for most on-demand rides, hit the heart on the left-hand side of the screen and it automatically gets added to your personalized playlist.
Purged Peloton Soundtrack Rides
These soundtrack rides are no longer available:
Top Gun Ride
Dirty Dancing Ride
Grease Ride
Mamma Mia (Abba's Dancing Queen)
Movie Soundtrack (60 Minute Mix Tape) featuring music from Grease, A Star is Born, St. Elmo's Fire, and more
The Greatest Showman Reimagined
Why do rides get purged?
No one really knows for sure why certain rides get removed from the content library. Sometimes, when an instructor like Jennifer Jacobs leaves, so do some of her rides. Other times, it's a music licensing issue. Peloton has thousands of rides on demand so it's also possible they just like to clean things up a bit.
How to Find Peloton Rides
There are three good ways to find Peloton rides:
Search for artists and/or songs under classes on a Peloton bike
Peloton recently introduced the "Artist Rides" series. This makes it easier for newer rides. Sometimes, rides can be hard to find. For example, the Hamilton ride is not called Hamilton, but Best of Broadway.
Bookmark a ride
Make sure to join the Official Peloton Member Facebook Group or any other sub-groups on Facebook. There, people will often link to their favorite rides. If you like it, click on it and it should open your Peloton membership page. Bookmark the ride for later to easily open it when you're ready to ride.
I've linked all the rides above for you so you can easily bookmark them.
Follow Me
If you subscribe to the weekly Friday Favorites newsletter, I mention my favorite Peloton ride of the week. I also alert you to new rides I've added to any lists found in the free Resource Library.
For more on how to find rides, I have more detailed instructions in this post.
Save for later!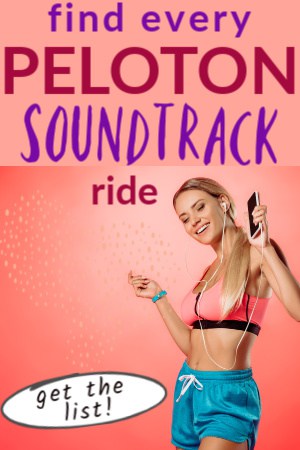 Final Thoughts
I try to keep this list up to date. Peloton sometimes purges rides without notice so if you see that one has been removed, feel free to let me know below in the comments.
Alternatively, if you find a soundtrack ride that I failed to mention, please comment below.
To get the free downloadable "PELOTON SOUNDTRACKs RIDES" list, sign up below. You'll always have free access to my lists in the Resource Library and get notified when I make important updates to these files.
Related Peloton Blog Posts:
The Best Spin Bikes to Use with the Peloton Digital App
The Best Treadmills to Use with the Peloton Digital App
How to Use the Peloton Digital App with any Spin Bike
Favorite At-Home Workouts for Every Budget
How to Motivate Yourself to Workout (When It's The Last Thing You Want to Do)