As I don't actually own a Peloton bike, I guess my answer to this question speaks for itself. However, I cannot deny that the Peloton Cycle is an ingenious product, well-designed, and absolutely fills a niche in our busy world, but it is a very sizable investment: the bike itself will run you $1995 plus $250 installation. Add in another $25 to $75 for weights plus other accessories, such as a mat and shoes. Oh, and I failed to mention the $39 monthly subscription fee that begins after the first year.
If you read my last very detailed post, you know that I use the Peloton app on a regular spin bike. With the addition of an iPad holder, a cadence sensor, weights, some SPD pedals and spin shoes, I've created my own mock-Peloton at a savings of more than $1700. (You can also get an upgraded version of my bike with SPD pedals already installed).
In all likelihood, Peloton has released their iPad and recently the iPhone apps to tempt people into buying their $2000 product. On their own website within the Frequently Asked Questions section, the very last question asked is: "I like the app, so why would I buy the bike?," a question I too, have been asking.
I downloaded the Peloton app about a year ago and use with a spin bike at home. Luckily, I had the opportunity to ride my brother's Peloton cycle a few days ago, so now, I can finally answer the question: is it worth the price tag?
According to Peloton, the following reasons should convince someone to buy their bike despite loving the app:
It's a Cutting-Edge Bike 
I agree, the Peloton Cycle looks sexy and is not an eyesore like so many other pieces of gym equipment. Peloton claims it has a quiet belt drive and magnetic resistance, however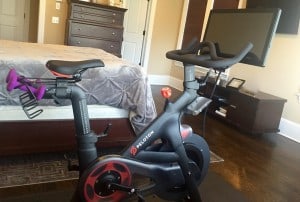 so does my inexpensive bike from Amazon. (Note: the newer version of my bike now includes SPD pedals). The touchscreen is sweat resistant. This reason does little to sway me; I have a case on my iPad, and secondly, my iPad has survived abuse from my two kids, so I am pretty sure it can survive my workout.
Access to Metrics
Of all the reasons, I agree mostly with this one. In my research, I could not find a bike that includes a computerized resistance meter. Most bikes with computerized screens display a timer, cadence/RPM, heartbeat reader, and calories burned. Even in spin classes, I turn the resistance knob to feel out a flat road or a climb, never knowing the resistance to such a precise calculation.
On my own bike, I normally opt for Peloton's theme rides. Some current examples include TV show ride, Metallica, Sting vs. Police. You get the picture. I sometimes do the rhythm rides set to the beat of various playlists or Live DJ. I avoid metrics because it focuses on the numbers, which I cannot accurately measure on my own bike. So, with an actual Peloton bike in front of me, I knew I needed to do a metrics ride; this, after all, is what I am missing according to Peloton. The instructor (in this case, Steven Little) called out various resistance levels, down to 32, up to 71, and then back to 39, a feat impossible with my own bike. Even without arms, 45 minutes of this workout wore me out, and I believe part of it had to do with this accuracy.
Compete Against Other Riders
I started the workout a few minutes late and had some intermittent WiFi issues, which I naturally blame for my less than stellar position on the leaderboard. However, I could not avert my eyes from the leaderboard screen throughout the class. I chose one or two names of riders to compete against and happily beat them both. At one point, my sister-in-law came in and told me that she and my brother find the leaderboard distracting, so they close it during most workouts, and I could see what she meant by that.
Ride with Friends
I mean no disrespect to my friends, but I don't really want to video chat during a ride. If I can chat, I am not working hard enough. Very few of my friends own the Peloton anyway, and the likelihood that we would choose the same class is slim. Again, I take most classes on demand so this too does not motivate me.
The Price
The hardest thing for me to wrap my head around is not the price of the bike itself, but the monthly cost. For the first year, Peloton provides free access to classes with purchase of the bike, however, after a year, that price goes up to $39 per month, while the app costs $12.99. While some Peloton cycle owners may give up their gym memberships, I know many users maintain both and others that use their Peloton as a backup workout while still attending SoulCycle or Flywheel classes.
Accountability
To actual Peloton Cycle riders, I do not exist when using the app, at least not on the leaderboard, nor, can I get a shout-out from the instructor. I secretly hoped that Steven Little would provide some encouraging words for me during my metrics ride, but alas, he did not. For my own accountability, I use the Wahoo device and Wahoo Fitness app on my iPhone to keep track of my personal data for every ride, such as highest RPM, lowest, time, and calories burned. The Wahoo also keeps track of heart rate if you choose to wear a monitor.
My Verdict
In the end, I cannot justify spending this amount of money on the bike, while I get a near perfect ride on my non-Peloton. Is my bike cutting-edge? Definitely not. Can I sweat profusely on my screen? Probably not. Am I OK competing for myself and not placing first in an imaginary race to nowhere? Absolutely. Yet, I  have come to rely on this app wholeheartedly and I must say that if the app disappeared tomorrow, I would bite the bullet and buy the bike.
*Note: This post was originally posted in March 2016 and has been updated to reflect accuracy and new product information.
Save
Save
Save
Save
Save
Save
Save
Save
Save